Make the most of your hard-earned content and search optimization by linking, pruning, or otherwise fixing orphan pages.
Let's explore in-depth what orphaned pages and content are, why they matter, and how to fix them.
What is an orphan page?
An orphan page is a page of your website that isn't linked from any other page of your website.
Where do orphan pages come from?
Orphan pages arise accidentally. They can happen when a site is updated or migrated and pages from the old website aren't properly linked in the new website and also aren't removed. The worst-case scenario is when a page contains valuable information and is no longer accessible from your main site.
Another cause is duplicate pages. These can have different addresses and share the same content or they can be non-canonical addresses. A website's pages should stick to either http: or https: consistently, either use www. or not, and either have a slash at the end of the url or not. All other variations of http, www, and trailing slashes should direct to the same actual page.
Do orphan pages affect SEO?
Yes.
First of all, it's hard for anyone to find an orphan page because it's not linked from your main site. If there's no link, it's hard to find.
Second, they are also hard for search engines to find. Search engines use your internal linking to crawl your site. They also use XML sitemaps which can contain orphan pages. If a search engine can find your page but website users can't, it leads to the third problem.
Third, orphan pages can bring down your overall site ranking. Because these pages have low traffic and low search ranking (they don't inherit any search value from internal links), they bring down the whole domain's ranking.
Fourth, orphan pages were once used by unscrupulous SEOs to pack keywords into a domain somewhere that they wouldn't confuse actual website visitors. While search engines now block this technique, they remain suspicious of orphan pages.
Are orphan pages bad?
Besides the issues with search described above, orphan pages are a waste!
If they don't contain useful information for a website user, they shouldn't be public.
If they do contain useful information, users need an easy way to access them.
How to find orphan pages
There are a few methods for finding orphan pages. The general approach is to find all the pages on your website and then check that they are all linked to each other.
This process can be done manually or with assistance from a tool. Our preferred tool is ahrefs.com. Here's how to use Ahrefs as an orphan page checker tool:
Step 1: Run a full crawl
Create a new project with the relevant URL: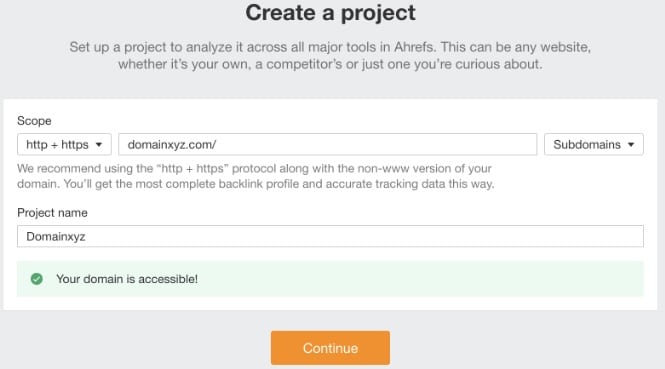 Include auto-detected sitemaps in the scheduled site audits: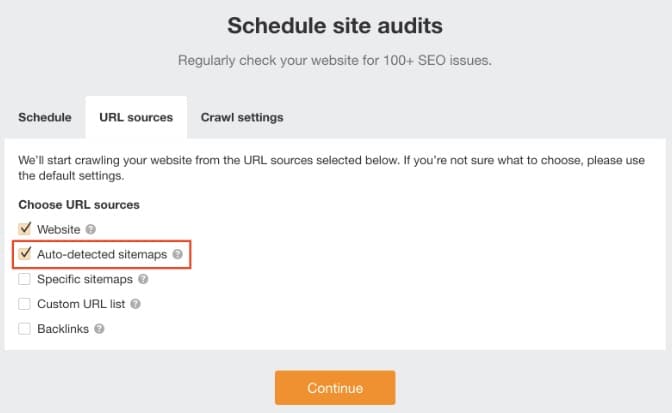 Leave "auto-detected sitemaps" on during the crawl
Step 2: Explore orphan pages
Find orphan pages in the site audit:
Click "Links" under "Reports" and select the "Issues" tab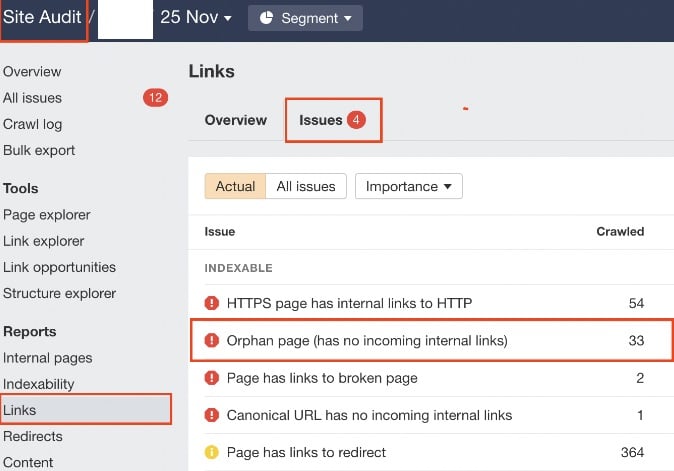 How to fix orphan pages
Now that you have a list of orphan pages, you need to deal with the issues. Categorize your orphan pages into 3 buckets.
Expired and irrelevant content

Pages for products or promotions that no longer exist
Pages that have no keyword relevance and no referring domains (no SEO value)

Redirect issues

Non-cannonical address (variations on http, www, and trailing slashes)

Actual content

Pages that have SEO value or content that should be incorporated into the site
Here's how to solve orphan pages:
Bucket 1: Expired and irrelevant content
Delete the pages. Having these pages under your domain doesn't help and could hurt your overall ranking.
Bucket 2: Redirect issues
Let's say you have both
http:www.mydomian.com/words/ and https:mydomain.com/words
These are duplicate pages. Choose one preferred usage (generally you want https) and redirect all other version to that URL version.
Bucket 3: Actual content
In general, you'll want to update these pages to match your current site format/look/feel and incorporate them into a relevant part of the site's hierarchy.
However, we're savvy SEOs and we can do better than that. Here are a few techniques to use:
Use search to find relevant links

Search your site for pages that mention the keywords in the orphan page and link them.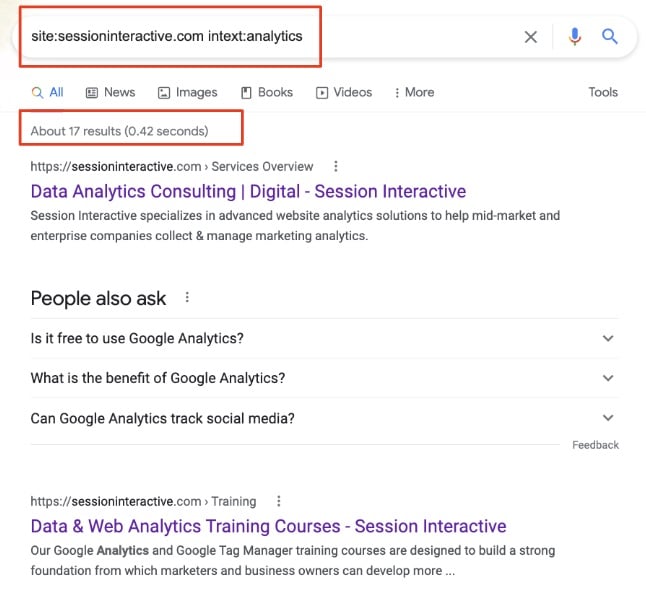 This search provided 163 pages that could link to an orphan page about UCaaS
This connects the orphan page to the existing website and boosts its search ranking for the linked keywords.
Eliminate cannibals

If two of your pages rank well for the same search, consider consolidating the two pages and redirecting one to the more authoritative page

Preserve link authority

If a page isn't relevant anymore or doesn't target useful keywords but has referring domains, don't lose that incoming link authority. Instead, redirect the page to a related page or the homepage.
How to prevent orphan pages from appearing again
Here is where automated tools can really come in handy. Set up an automated crawl report for every 3 months. Use these reports as a trigger to review the site structure and deal with any new orphan pages.
Of course, you can also prevent new orphan pages by linking to any new page that's created on the site from an existing page. Ideally use method 1 above to link to new pages from lots of existing pages.
Let Backend SEO Experts Fix It
Session Interactive makes a great partner for SEO-savvy marketing and web development teams. We have the experience and established processes to check and fix all backend SEO issues efficiently and effectively. Orphan pages are just the start of the SEO journey. For highly effective websites that soar in search, contact Session Interactive.